11.08.2010 | General | Ingumak
Losers-Los perdedores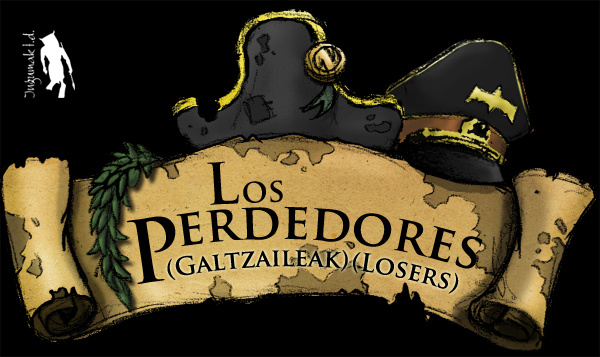 "Losers" is an adventure in the old style. Or so I pretend. Filled with surreal touches of humor and satire, where you will play with the likes of a psychotic Napoleon, Julius Caesar or Hitler. In your great adventure of flight, you will meet other "famous" as Franco, Mussollini or Fidel Castro among others.

Napoleon discovers some phosphorescent paint on the wall of his cell that can only be seen in the dark. A PLAN TO ESCAPE! None other than written by Giordano Bruno, a former prisoner in the cell. Napoleon will follow this plan to escape from prison. Did you succeed? up to you.

I am now building the first stage, the cell, which will have to flee.
All the details will come on the blog I built for the event. I'll announce the news on this website for those interested in following the evolution of the game.

"Los perdedores" es una aventura al viejo estilo. O eso yo pretendo. Lleno de toques de humor surrealista y de satira, donde jugarás con personajes como un psicótico Napoleon, Julio Cesar o Hitler. En tu gran aventura de fuga, conoceras a otros "ilustres" como Franco, Mussollini o Fidel Castro entre otros.

Napoleon descubre unas pinturas fosforescentes en la pared de su celda que solo pueden verse en la oscuridad. ¡ES UN PLAN PARA FUGARSE! Nada menos que escrito por Giordano Bruno, anterior preso en la celda. Napoleon deberá seguir este plan para escapar de su prisión. ¿Lo conseguira? depende de tí.

Ahora estoy construyendo la primera escena, la celda, de la cual tendrás que huir.
Todos los detalles vendrán en el blog que he construido para el caso. Iré anunciando las novedades en esta web para aquellos que estén interesados en seguir la evolución del juego.
Back