01.10.2011 | General | Marvel
Halloween Contest - Join now and win great prizes!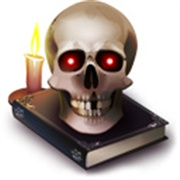 Rules:
[list]
The game must have at least two accessible rooms, plus title screen.. You may also create a mini-game (such as a sliding puzzles,...).

The theme of the game is "Halloween" ... this subject must be in the game or the overall concept, at least to find hints,

In the game must be at a pumpkin

You may take an existing template (for example the Maniac Mansion Mania starter pack) to aid development

A development team may consist of any number of developers ... all the members of the community can also help other members

[/list]
Procedure:
[list]
The deadline for entries is October 31. All developers have more than 4 weeks for their game development. At the latest at 23:59 all games must be received at the following email address support@visionaire2d.net

After the deadline, we will consider all submissions thoroughly and make them available to the public ... coupled with a poll, so all players can vote for their favourite game

The poll runs for 14 days - then the poll results published and a winner will be declared

[/list]
Prizes:
We are very grateful that "Daedalic" (
http://www.daedalic.de
) supports us as a sponsor of this contest. Accordingly, you can win the following:
1st PRICE
1 x A New Beginning - World Edition
1 x Visionaire Studio T-shirt in black (L) with logo printed on of each team member (max of 3)
2nd PRICE
1 x stuffed toy of bunny Harvey (character of the game "Harveys New Eyes" )
1 x Visionaire Studio T-shirt in black (L) with logo imprint
3rd PRICE
1 x Visionaire Studio T-shirt in black (L) with logo imprint
Questions:
As a point of contact for all questions, concerns and complaints please use the Visionaire forum. There you will certainly be helped if you should get stuck with your game development.
We hope you have fun while developing your game and that you are very successful!
The Visionaire Team
Back