A Space Adventure - Remastered Edition: Released!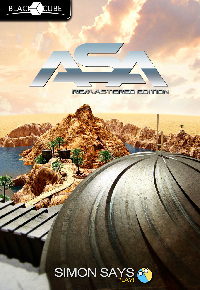 Many thanks to the Visionaire team and all the community for their support. Special thanks to Lee for his infinite patience

ASA: Remastered Edition is the exact same than the original ASA game, except that we've been working on several new features specifically for the Steam release. Despite a lot of efforts in the past, the original version presented different issues that could not be solved, so we decided to restart from scratch with a new game engine! Here's the list of new features: - Rediscover the first project of the Black Cube series (Catyph, The Black Tower) - Visit 6 areas on the Ark + 2 planets (and more!) in HD graphics (1920x800) - Developed with Visonaire Studio, allowing more flexibility and stability - We've added visual aids to identify the hotspots - More translations, no need to patch! (English, French, Italian, Spanish and German) - Available for Windows, Mac and Linux
BUY Now on Steam!
Also available on
Adventure Gamers Store
and
Zodiac Store
Back