Now it's child's play to create
an Adventure Game.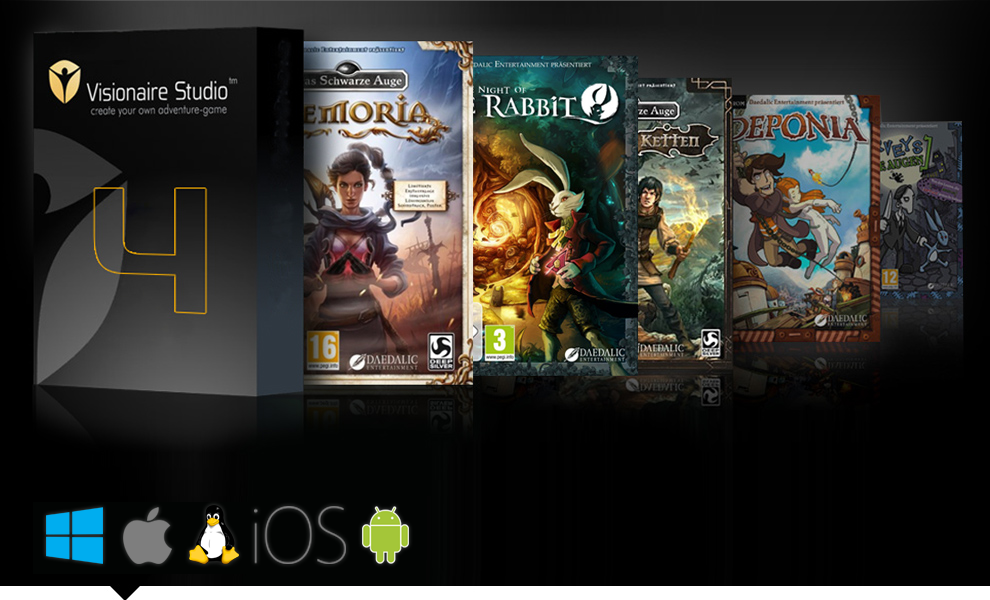 You don't need programming skills!
The main purpose of Visionaire is to empower fans of adventure games to create their own games, without requiring extensive programming skills. Therefore Visionaire provides a huge set of existing "Actions" that can be combined in all imaginable ways. This allows people to develop their own games without writing a line of code.

Visionaire Studio is easy and flexible
The visual editor of the "Visionaire Studio" authoring system was created with a clear layout and intuitive user interface in mind. The community helps you. Get to know other users, discuss in the forum, write news and more...
Amazing Games have been created
with Visionaire Studio
Visionaire Studio is a powerful tool for the creation of point and click adventure games. Have a look at some of the games, made with Visionaire Studio: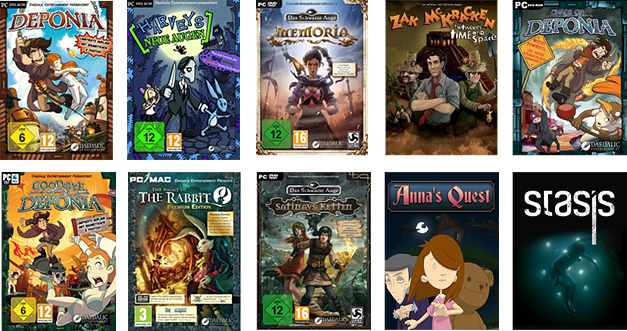 • DEPONIA 1,2 and 3
• MEMORIA
• The Chains of Satinav
• The Whispered World
• A New Beginning
• Harveys new eyes
• Zak McKracken between time & space
• Captain Delta
• Big Time Monkey
• Anna's Quest
• STASIS
And many many more...
Downloads / Templates
Here you can find multiple demo games which were created with Visionaire Studio. You can play, edit and analyse these games to get familiar with Visionaire.
Fantasy Quest
Fantasy Quest was developed by Andi Lidell. This game tells the story of a knight who has to free a frog from an evil spell. Thereby many exciting quests and challenges have to be solved. Fantasy Quest was the winner of the Visionaire Adventure Contest 2015.

Language: Englisch


Magical Potions
Magical Potions was developed in the context of a study project by 6 students. It is a game with beautiful, hand drawn graphics where a magician has to solve various quests.

Language: Englisch


Chaos in the Cannibal Village
Chaos in the Cannibal Village is a very well made and exciting game about a kidnapping by cannibals and showcases many Visionaire features. This game won second place in the Visionaire Adventure Contest 2015.

Languages: Englisch / Deutsch


Locked Out
In Locked Out the main character has lost the key to his house and the player has to help him get his keys back. This game presents many features and effects of the Visionaire Engine.

Sprache: Englisch


Please support us!

Do you like Visionaire Studio? Want to show some support to the Team behind it? Then please consider sending us a small donation, so that we may continue to work on, and develop the engine at an accelerated rate. Many thanks, in advance, The Visionaire Studio Team